Frequently Asked Questions
Q. What is the best slide oil?
A. Not all slide oils are created equal! The oily, alcohol-smelling stuff that comes in your rental horn's case is usually absolutely worthless. 
Please please please invest in a REAL slide oil that will keep your slide moving effortlessly! 
Also, every trombonist MUST have a small portable spray bottle of water to keep the slide wet. The water activates both of the slide oils that I recommend. 
All of these products are available at your local music store, or online at Amazon.com, wwbw.com, or musiciansfriend.com
Slide-O-Mix Rapid Comfort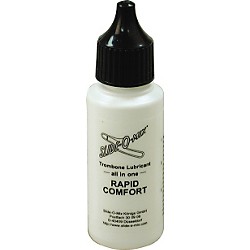 Yamaha YAC-1021P
2 oz Spray Bottle for water
Q. Should we rent an instrument or buy?
A. Rental horns from Summerhays or Bert Murdock music are a great way to go. You will be sure to have an instrument in great condition and there are even rent-to-own options
Another option is to buy used
. I am more than happy to help my students look for and find quality used horns through
KSL Classifieds
and other sources. Typically a used student horn in good condition can be purchased for $100-$400 or so. 
Q.  How do I clean my trombone and how often?
A. Give the trombone a bath (yes! a bath!) About every 6 months
Purchase a good cleaning kit like this one from Yamaha (found on amazon for $20). This also happens to include the yamaha slide oil mentioned above!
Any good cleaning kit will contain the following:
1. Snake Brush
2. Mouthpiece Brush
3. Lint free Cleaning Cloth
There are several resources online that will instruct you on how to bathe the trombone. Here is one such resource:
http://trombone.org/jfb/library/jfb-keepitclean.asp